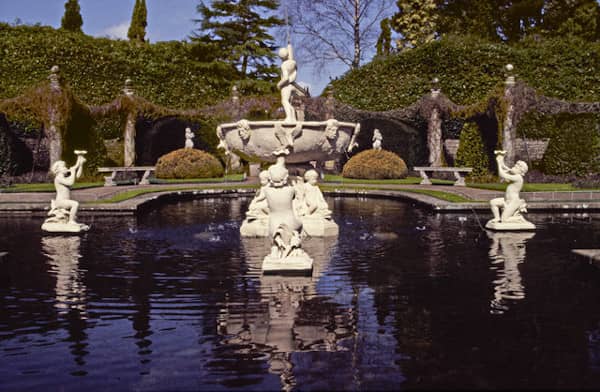 Compton Acres is a beautiful English garden that you can visit year-round.
It is one of the most visited attractions in Southern England. It was founded by Thomas William Simpson, an entrepreneur who became wealthy by manufacturing margarine. He used his wealth to create this beautiful garden where he could spend time with his family.
This garden is home to over 2,000 different species of plants from all around the world. They're also famous for their collection of magnolias – there are more than 100 varieties here! You can explore our extensive greenhouses too – we have everything from cacti to orchids. And if you love flowers then you won't want to miss out on our stunning rose garden either. It has over 1,500 roses with blooms that range from deep reds through pinks and purples into white and yellow. There really is something for everyone at Compton Acres Gardens.
---
What is Compton Acres Garden
Compton Acres is an English garden created by Mr. Thomas Simpson and it is regarded as one of the best privately held gardens in the country. You can find this garden in Dorset, England. You can relax in our exquisite café and tea rooms, shop for gifts at the Gifted Moments store or explore plants with our Plant Center which spans over 10 acres of horticultural nirvana.
The History of Compton Garden
In the late 1800s, Mr. Thomas Simpson came up with a vision of what his garden would one day become. In 1920 he began to implement the idea and Compton Acres was born. The first thing built in the garden was a willow dome which was installed as a shelter from the rain for those on picnics or feed the animals on the farm. His first plantings were of ornamental willows around a hilltop ridge and a large plantation of beech trees below it.
He had been inspired by some wooded areas that he had seen at Kew Gardens and following this trend, he made sure that Compton Acres was as far as possible from any existing part of Dorset to preserve its tranquility as well as to give himself room for planting.
During the next couple of decades, he continued to develop Compton Acres with rare plants that were expensive at the time, but which brought notoriety to this garden. His son joined him in 1934 and the school children who came here for outings made money by trapping rabbits on nearby meadows so they could feed the animals on the farm. This garden is now a popular attraction for both local and foreign tourists.
The Grounds at Compton
The English gardens at Compton Acres were designed by Mr. Thomas Simpson and they have been recognized as one of the best privately held gardens in England. The grounds have a café, a Gifted Moments store, and a Plant Centre that spans over 10 acres of horticultural nirvana. The gardens are located in Dorset, England and they've been the work of Mr. Thomas Simpson from the 1800s to 1920 when he began to implement his idea about what his garden would one day become.
In 1820, Mr. Thomas Simpson began creating the English gardens at Compton Acres with ornamental willows around a hilltop ridge as well as a large plantation of beech trees below it. Inspired by some wooded areas that he had seen at Kew Gardens, he ensured that his gardens were as far from any existing part of Dorset to preserve its tranquility. In 1963, Mr. Thomas Simpson's son joined him and the school children who came to visit this garden made money by trapping rabbits on nearby meadows so they could feed the animals on the farm. The school children also helped to make the garden what it is today.
How to get to Compton Acres
By car and coach
Take a left onto Haven Road and then take the first exit left into Canford Cliffs Road at the roundabout. We're 500 yards on the left-hand side of Sandbanks Road.
By bus
The Purbeck Breezer Open Top Bus Route 50 goes between Swanage and Bournemouth, stopping at Haven Road where you can find Compton Acres. Route 60 runs between Poole and Sandbanks, stopping directly outside Compton Acres' gate.
By Train
Compton Acres is located in Dorset, England. To get there, the nearest station is Parkstone (2 miles) and Poole (2 miles), which are both 4 miles away. There are no cabs on standby at Parkstone station.
Opening times at Compton
Café Main:
9.30 a.m. to 3.30 p.m.
Shops:
10 a.m. to 4 p.m.
In the garden:
10 a.m. to 4 p.m. (last entry 3 p.m.)
There is no need to make a reservation to visit our gardens.
Details are subject to change without notice.
Entry Prices for Compton Gardens
adult is £19.80,
child is £9.90,
family is £49.50, and
family one adult is £29.70.
On the other hand, the standard for adult is £18.00,
child is £9.00, family is £45.00, and family one adult is £27.00.
What to See and Do at Compton Garden
Many years have passed since the garden began attracting tourists, but it still has that same old charm to it. You can explore its amazing world of plants by starting at the Plant Center which is located in an area called The Mill, along with a number of other plant collections. Here Heddon's Mouth is the first thing you see, which was built by Mr. Simpson himself in 1925. It an octagonal-shaped wooden structure with a square base and it also has eight tall columns supporting a huge dome roof. Since its erection, this unique structure has featured many times on local postcards as well as on souvenir tea towels.
The next places you can stop at are the Gifted Moments store and the Compton Acres Café & Tea Rooms which is great place to take a break from your exploration of plants. It offers a delicious menu with a selection of homemade soups, sandwiches, cakes, and scones as well as satisfying hot and cold drinks.
As you continue your journey on the winding road which leads from the Plant Center to The Mill, you will come across a large walled garden which is full of unusual trees, magnolias, and rhododendrons. Here you can also find a pair of very rare Chilean Wine Palms that are over 50 feet high which add a lot of interest to the garden landscape.
This garden is also home to a wide variety of different orchids, some of which are over fifty years old. Many of the plants in this garden have won awards for their beauty and rarity. There are also other plants in the garden, such as a group of buckwheat plants which were first introduced to Britain by a famous botanist named John Tradescant. He brought them from North America and made sure that they flourished in this area.
In addition to all of these attractions, you can walk on tracks among ancient trees and through a large-scale woodland garden. The paths in this area bring you to the swan lake and the huge duck pond which is home to many different species of ducks and geese. This fine garden has also been recommended by English Heritage because of its great historical significance.
There are over 1,000 different varieties of rose that have been planted in the rose garden. The roses are set out in different sections relating to their time of flowering and color, but they can all be found on the long winding paths that you will walk down. Visitors can also enjoy strolling through the rose gardens which are arranged in different styles with rose varieties, including climbers, shrub roses, polyanthas, ramblers, and miniatures.
A number of people have found this garden to be an excellent place for bird watching because it is home to many owls, buzzards, mistle thrushes, blackbirds, long-tailed tits, wood pigeons, robins, crested tits, pied fly cachers and more birds too numerous to mention. The garden also contains a large number of different species of insects including gold puffs, peacock slugs, glow worms, great green bush crickets, and red admirals.
There is one more interesting attraction in this incredible garden that we would like to share with you; it is called the Vegetable Museum which features many historical exhibits. You can see here a unique collection of rare and unusual plants, vegetables, fruits, and flowers dating back to the 17th century.
The most visited section in this garden is undoubtedly the maze which was built with over 20,000 yew trees with the hedges trimmed so exactly that they interlock without any joins. It sits in an eight-acre plot and visitors can explore its pathways for hours as they try to find their way off.
Whether you visit the garden during the blooming season or not, this place will never cease to amaze you with its many amazing sights and interesting plants. It is definitely one of the best gardens to visit in Dorset where you can spend a day exploring and relaxing.
How to Get the Most Out of Your Visit to Compton Acres Garden
The best way to explore the garden would be to start at The Mill, where you can take a leisurely walk down the main grounds through The Woodland Garden, past the Swan Lake and the Duck Ponds. You can then head up into the Vegetable Museum where you can learn about some of the rare plants that are found in this extraordinary garden.
If you want to see more roses, you should start at the Rose Garden which has 1,000 different varieties of roses on display. You can also take a stroll through the Rustic Floral Paths or have a look around one of several different smaller gardens within this lovely 38-acre site.
To take advantage of all that Compton Acres has to offer, it's recommended that you spend a couple of hours here exploring all of its wonderful attractions.
Other Places Nearby
The Lewis Stately Gardens
This place has been voted one of England's most beautiful gardens and is situated just 2 miles from Compton Acres. It comprises over 21 acres of stunning gardens with beautifully landscaped lawns, flower beds and trees.
Bournemouth Beach
This is an unspoiled bay with sand dunes that can be reached by following the coastal path. There are also many places nearby where you can enjoy some watersports or take an exhilarating ride on a roller coaster or go-kart.
The Oceanarium
This is a great place for the entire family as it has a large collection of creatures from under the sea. See sharks, turtles, stingrays, and many more animals as you learn about their habitat and life cycle. You can also see thousands of tropical fish as well as penguins in this amazing aquarium.
The Sea Life Centre
This is another attraction that features an amazing collection of marine life. You can see various fish, crabs, starfish, and other creatures that live in the deep blue sea.
Pipe-Lane Woodland Park
If you're looking for a place to relax with your family, this would be a great choice as it has a great selection of walks and trails that are perfect for looking at nature.
Bournemouth Pleasure Beach
This is a world-famous theme park where you can try out some exciting rides including roller coasters, dodgems, and bumper boats ride.
Christchurch Harbour
If you want to learn about how life used to be in the past, you can visit Christchurch. It is a market town that has a harbor which is full of fishing boats and yachts. You can also take a look at the Christchurch Priory Church and Museum which was built by William of Wykeham back in medieval times.
Lodmoor Country Park
If you want to see some local wildlife, this is a great place for you as it has a large pond where birds can be found. The park also has an interesting history as it was used by Romans back in AD43.
Conclusion
It may not be the most well-known of England's gardens, but Compton Gardens is worth a visit. The garden includes over twenty acres of stunning landscaped lawns and flower beds; it also has many paths that take visitors through various areas to enjoy flowers in different seasons or explore nature at leisure. If you love plants, this place will delight your senses with its variety of colors and scents which are sure to stay on your mind long after you leave.
Learn more about Compton Gardens