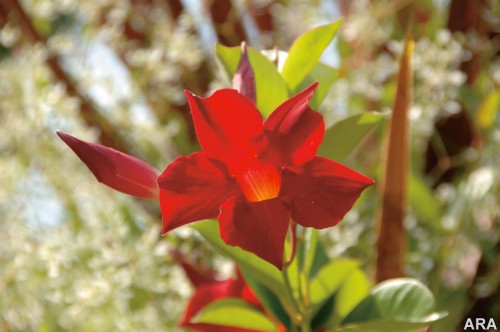 Do you want gorgeous, giant blooms with lots of "boom color" right up until fall's first frost? Would you like bold blossoms of color cascading from hanging baskets, decorating garden beds, and sizzling around a trellis? This season you can have it all by planting your own "show-stopper" right in your own backyard with Sun Parasol Crimson Mandevilla.
In the hottest new color from the Paris runway, Sun Parasol Crimson is being hailed as a "must-have" in the garden for its easy care and big reward of color. The crimson-red, velvety bell-shaped blooms cover the generous trailing vines, turning your container into a blaze of color throughout spring and summer. Crimson's deep red blooms slowly fade to deep fuchsia on glossy green foliage as summer passes by.
"Mandevilla is great choices for anyone who wants an easy-to-grow tropical with bold crimson-red blooms for big pots or hanging baskets," says Justin W. Hancock, editor for BHG.com, the Better Homes and Gardens Web site. "It makes a very impressive garden plant."
Tropical Beauties:
In Brazil, Mandevilla is known by the common name, Brazilian jasmine, but the Sun Parasol Crimson looks right at home in northern climates, where careful cross-breeding for hardiness, weather tolerance, easy-care, disease resistance, and continuous blooms until fall make them a perfect choice for your home or garden. Plant it in the garden or in a container.
Show-offs in the Landscape:
Planted throughout the landscape, this quick-growing plant with trailing flowers is easy to grow and adds height and attention-grabbing visual interest as it spreads with splashes of richly saturated color.
Wall of color:
Create a wall of dripping crimson with the Sun Parasol Crimson Mandevilla pot and trellis that's both easy and convenient. The vines can climb 12 to 15 feet, forming pretty patterns of weaving vines and brilliant blooms that become a natural privacy screen.
Add a dramatic focal point in your garden with a trellis and arbor cascading with crimson blooms and escape to your private outdoor paradise to dine or relax with a favorite book.
Hanging around:
Crimson is available in a 10-inch hanging basket ready to decorate your porch, patio, or balcony with its famous color. Let it freely trail around the chains and if you want to add colors, mix in contrasting green vines, blue daze flowers with green stems, and Sun Parasol Pink.
Growing Needs:
Use well-drained soil, fertilize every two to three weeks, and make sure your Sun Parasol Crimson Mandevilla receives at least six to eight hours of sunlight each day. Since they thrive in warmth — hardiness zones 10 and 11 — sunshine and light shade, and are frost intolerant, remember to bring the plants indoors to "winter" them if you want to replant next spring. Indoors, keep them near bright, indirect lighting, temperatures above 50 F, and a bit on the dry side until spring. Then you should increase watering and fertilize them to encourage another season of award-winning blooms.
No matter where you grow them — in containers, trailing in hanging baskets, climbing up a trellis, or decorating your landscape as a bedding plant, the Sun Parasol Crimson Mandevilla dresses up any home and garden with an award-winning look.
Available in smaller pretty and larger giant sizes, Sun Parasol Crimson also comes in a 6-inch pot with or without a trellis. Either way, the saucer-sized blooms will add tropical zest to your garden landscape, decks, patios, and apartment balconies.