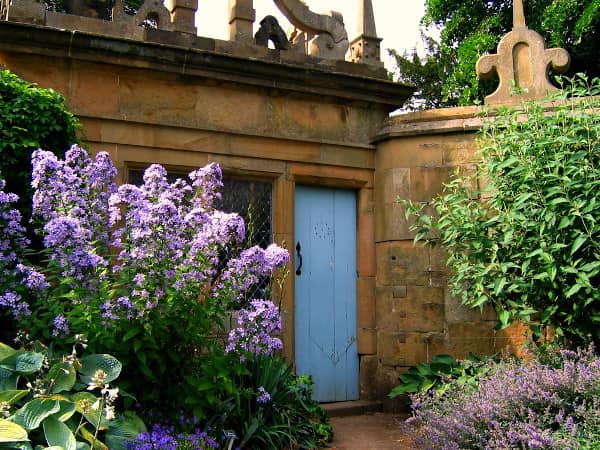 Hardwick Hall is the place to go if you're searching for a spot to be lost in nature's splendor.
It was designed by William Cecil and features an array of flowers from all over the world. It's been said that it's one of England's most beautiful gardens.
The gardens are filled with colorful flowers and plants that will make your jaw drop. You can spend hours wandering around this gorgeous property, taking it all in. It's truly an escape from reality where you can enjoy nature at its finest.
---
What is Hardwick Garden
The Hardwick Garden is one of the most ornate gardens in England. The garden is located in Derbyshire, England, and is home to over 5,000 different species of flowering plants and trees that you can find all around the world. It was originally created by members of the family who owned it and has since been tended by many more generations. People come from all around the world to visit this garden because of its beauty and history.
The History of Hardwick Garden
Hardwick Garden is a part of the Hardwick Estate and has been owned by the family since 1590. The Hall and garden were created for Bess of Hardwick, who married William Cavendish. He was the son of Charles Cavendish and brother to William Cavendish. The first plans for this garden were drawn up in 1568, under the guidance of William Cecil, Elizabeth I's chief adviser. These initial plans did not include a hall or formal garden, but Bess wanted one built later on because she visited many other gardens during her travels abroad and wanted something similar back home.
Robert Smythson was commissioned to build it in 1590 and completed the project in 1597. The garden itself is built around a formal court with paths that lead to central features such as the fountain. The parterre was added at the end of the seventeenth century by Bess's grandson, William, and it is named after him. The final addition was the shell wall. This is an enclosed garden that has semi-circular walls with arches, and it is where flowers are grown during the winter months.
The first earl of Devonshire owned the estate afterward until 1707 when William Cavendish, the first duke of Devonshire, acquired it. He was married to Lady Charlotte Boyle, daughter of the Earl of Cork and Orrery. Their son Henry Cavendish became a scientist and politician. He was a friend to many people in Queen Anne's court including Jonathan Swift so he gained political power from them. Henry later inherited the estate from his father after William died in 1729 because he was the only surviving son. The first dukes' wife, Eleanor Needham, was very close to William so their son maintained her husband's memory by keeping Hardwick Hall and its garden created for his father in perfect condition. Henry later married Lady Anne Irwin, who came from an old Irish family that owned Londonderry House. Their son William Cavendish, the second duke of Devonshire continued to work on the garden and was responsible for further additions.
He married Henrietta Bentinck, who came from a royal family in Holland. They later had their own garden made next to Hardwick's main one because they wanted it larger and more private. They also built a new house in the garden so they would not have to cross over William's land every time he wanted to get into his personal gardens. They later created a knot garden that was based on designs from Roman architect Maximillianus. It is shaped like a large square with crossing paths and hedges around them.
In 1758, Henrietta created a new herbarium. It was located in an octagonal building that she had built to house rare plant specimens from India and South America. In addition to the herbarium, there were also living plants in this garden including coffee trees and fruit trees. As time progressed the Cavendish family continued to add on to the garden. They added a Gothic temple that was dedicated to William, who had died in 1758. It was designed by James Wyatt and built between 1759 and 1763.
The last major addition the family made to the garden occurred when Spencer Cavendish, 6th duke of Devonshire, turned it into an English Garden in the 1800s. He used a method known as Capability Brown's landscape style. This was done by adding an artificial lake and irregularly shaped pieces of land that had been cleared from areas of woodland. The garden is open to the public today and it is an important part of Hardwick estate history because it shows how the family added to it over many years.
The Grounds at Hardwick
The grounds at Hardwick are one of its most well-known features, and they cover over 100 acres. There are three steps to the gardens; the estate covers the lowest step, which is the largest part of the garden. It has lawns, woods, stunted coppices, and wide herbaceous borders. The second step is the garden court with its terraces up to Hardwick Hall, which was designed by Renaissance architect Robert Smythson in 1590-1597 for Bess of Hardwick. Visitors can see an English parkland design that includes a parterre (a formal garden that is laid out like a carpet). The third step is an enclosed garden with cross paths and hedges around them which was created by Henrietta Cavendish, the duke, and duchess of Devonshire.
The Hardwick Garden has various elements including a maze, a fountain court, an Italian garden, and even a statue dedicated to William Cavendish. The maze is considered one of the best mazes in England with its huge variety of roses that were planted in the mid-1800s. There is also a fountain court with two fountains, one which has Neptune underneath it and another that depicts Pluto. The Italian garden was built in 1760 by Henry Cavendish, 1st duke of Devonshire; he never saw it finished, but at least William I could appreciate his gardening efforts. There is also a small, secluded walled garden known as the Wilderness.
How to get to Hardwick
By road
If you're driving, take the A6175 and follow the brown signs. If you're using a SatNav, enter the postcode S44 5RW in the destination field.
By bus
To get to Hardwick, one option is to take the bus. From the Chesterfield Bus Station, you would need to take a bus to Rowthorne and Hardwick.
It takes about 2 kilometers (or 1 mile) and there is little sign of where you are going. You'll have to make sure to take a left at Rowthorne Gate and then another left at the settlement to reach Rowthorne House. The last part is easy – just go straight to reach Hardwick Hall.
By train
The difficult thing about getting to Hardwick is one must first make it to the city of Chesterfield, which is the nearest train station. From there, you may take a cab or take the Pronto bus from Chesterfield coach station; for further information, see bus routes.
Opening times at Hardwick
The Hardwick Estate is open every day of the week except for Christmas Day. The hours are as follows:
The Hall and Grounds are open from 10:30 am to 4 pm
The Tea Room is open from 10:30 am to 3 pm
Gardens are open from 10:30 am to 6 pm
The Estate closes at 6 pm
Entry Prices for Hardwick Gardens
adult is £16.00,
child is £8.00,
family is £40.00,
one adult and three children is £24.00,
group adult is £15.20.
What to See and Do at Hardwick Garden
There are various things to see and do at Hardwick Garden, including:
– exploring the 3 steps to the gardens
– finding five of Hardwick's treasures in a new ground floor display
– discovering beautiful Elizabethan tapestries
– admiring the plants in the herb garden that take on a beautiful wintry look during the colder months
– seeing snowdrops burst from beneath the frozen soil
– taking part in Percy the Park Keeper Winter Adventure Trail
– finding our favorite objects in the Hall
– trying some of '50 things to do before you're 11¾'
– taking part in the family trail
– enjoying a walk through our 2,500 acres of parkland.
How to Get the Most Out of Your Visit to Hardwick Garden
1. Explore the grounds
2. Take part in the family trail
3. Enjoy a walk through our 2,500 acres of parkland
4. Finish with a bite to eat and a trip to the shop
5. Take a look at the items that have previously been resting away from public display
6. Listen to the untold stories in their collection
7. Take a look at our free magazine/leaflet, available in the Visitor Centre, to guide you around the ground
9. Go see the disabled facilities that are also available on site
10. Bring your dogs only in the park on leads at all times of year
Other Places Nearby
Harewood House
A 20th-century house and gardens, which include a large collection of contemporary and historic art and antiques.
Sheffield's Devonshire Royal Hospital
The site includes the former Infirmary, an eye hospital, visitor accommodation, and research facilities which date from 1844 to 1975.
Weston Park
The West Hall is a Grade I listed Victorian building which was originally built for use as a library in 1882. It is now home to the Weston Park Museum.
Abbeydale Industrial Hamlet
The historic site of the former colliery at Hoyle Mill, which has been restored to offer a unique insight into Sheffield's industrial past.
Abbeydale Picture House
Dating back to 1912, this Edwardian gem is still a popular cinema with the people of Sheffield.
St Vincent Street Church
A fine example of a Gothic Revival building, designed by Sir George Gilbert Scott
Park Hill
Once considered one of Europe's most ambitious council housing schemes, Park Hill has now been redeveloped as both residential and commercial properties.
The Light
An award-winning contemporary arts center
Sheffield United Football Club
Known as 'The Blades', the football club is one of the most popular in the country.
Sheffield Wednesday Football Club
Known as 'The Owls', the football club is one of the most popular in Yorkshire.
The Crucible Theatre
With only 500 seats, this world-famous theatre is also known for its unique sprung floor, which allows perfect conditions for both performers and audience members alike.
Lyceum Theatre
A Grade II listed Edwardian theatre, designed by Frank Matcham.
Sheffield Cathedral
Built during the Romanesque period (11th century), it is one of the UK's largest cathedrals.
The Peace Gardens
Awarded Green Flag status for its abundance of trees and plants, as well as the surrounding lake and waterfall.
Kelham Island Museum
One of the finest examples of a Victorian industrial museum, with over 8,000 artifacts on display.
The Jorvik Viking Centre
Based in an ancient part of Sheffield's city center, this archaeological treasure has been created using authentic excavation methods to retell the story of the Vikings in England.
Meadowhall Shopping Centre
One of Europe's largest shopping and leisure centers and located within 10 minutes of Hardwick Hall.
Conclusion
If you're looking for a tranquil escape from the hustle and bustle of city life, then Hardwick Hall is perfect. This English garden spans more than 2,500 acres and features beautiful landscaping in addition to being home to some rare species of trees. With an exploration trail that takes visitors through the grounds as well as stories about what was happening on-site during various periods throughout history, there is plenty here to keep any visitor entertained! Hardwick Hall is open all year round, every day of the week.
Learn More about Hardwick hall