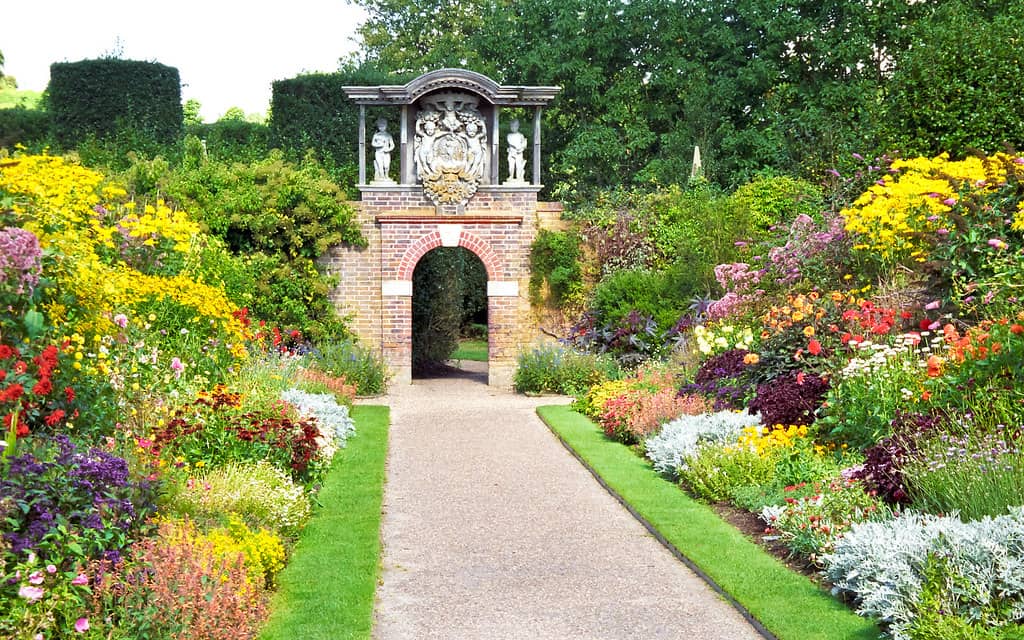 Nymans is a unique place where the garden has been shaped by three generations of one family.
It's an English garden with theatrical touches, filled with rare plants and unusual features. The design sensibility and talents displayed in this colorful garden seem to run in the family. Messel's nephew was photographer Lord Snowdon, once the Queen's brother-in-law and his grand-nephew is furniture designer Viscount Linley.
If you are looking to escape into a world full of beauty, color, and tranquility then look no further than Nymans Garden. This is an experience like no other!
---
What is Nymans Garden
Nymans Garden is a man-made English garden that was created by the Messel family starting in the late 19th century. The garden was brought to renown by Leonard Messel, who developed it over three generations. The garden is located in the east of Handcross, England, and in the Slaugham civil parish. It covers an area of around 83 acres and contains a wide variety of botanical species. source
The History of Nymans Garden
The history of Nymans Garden goes back much further than the medieval style manor that is currently standing. Before the Messel family bought Nymans, it was a plain Regency-style house, built around 1839 by George Harrington. The manor that is currently standing was built in the early 1900s by Maurice and Sybil Messel, who were avid gardeners and filled the gardens with many different types of plants and flowers. The gardens slowly became a National Trust property in 1948, when they opened to the public. The family still lives on the property and works to maintain it for visitors to enjoy.
The Messels bought Nymans in 1917, shortly after Maurice started his military service during World War I. During this time, Sybil was often alone at the manor, as Maurice was away at war and their son Oliver was too young to be of much help. Sybil decided that the manor needed a garden, so she began to plant flowers around the house as a way to keep herself busy. She planted many different types of plants and flowers, including daffodils and roses. The original focus of the garden was to beautify the pathways around the property.
The Messels, both Maurice and Sybil, loved their property Nymans. It has been said that if people were invited out for tea at Nymans it meant that they were very close friends or extremely close family members. The couple used their property as a place to entertain and relax, and the gardens served as an important part of that. Maurice was a very talented gardener and he designed the gardens at Nymans to be very intricate. He used many different types of plants and flowers to create beautiful displays that would change with the seasons.
The Messels passed away in 1988, but their legacy at Nymans lives on. The family still lives on the property and works to maintain it for visitors to enjoy. The gardens have been open to the public since 1948 and continue to be a popular tourist destination. Thousands of people visit Nymans every year to admire the beautiful gardens and learn about the history of the property. The manor that is currently standing was built in the early 1900s by Maurice and Sybil Messel, who were avid gardeners and filled the gardens with many different types of plants and flowers. The gardens slowly became a National Trust property in 1948, when they opened to the public. The family still lives on the property and works to maintain it for visitors to enjoy. source
The Grounds at Nymans
The Grounds at Nymans Garden are a sight to behold. The gardens, while not huge, are expertly arranged and contain a great variety of plants. There's a wonderful mix of color and texture to be found in the gardens, and they're always meticulously kept. The Grounds at Nymans Garden make for a perfect place to take a relaxing stroll on a sunny day.
The garden has a variety of different gardens including a herb garden, a rose garden, and a knot garden. There are also several greenhouses that contain a variety of plants from all over the world. The grounds also contain several different fountains and statues.
There have been strange rumors of events that happen in the garden at night such as a ghostly gardener seen roaming the grounds, but no one has ever been able to confirm these stories.
How to get to Nymans
On foot: 5 miles from Balcombe station
By train: The nearest stations are Balcombe 5 miles (no public transport to Nymans available), Crawley 5 miles, and Haywards Heath 9 miles
By road: Off London to Brighton M23/A23. Follow the brown signs from the A23.Parking: The car park will open at 9.00 am and close at 6.00 pm. Car parking is free.
By bus: Metrobus routes 271 and 273 stop nearby, providing an hourly service from Crawley (station) and Brighton, and every two hours from Burgess Hill and Hurstpierpoint. source
Opening times at Nymans
Garden- 10:00 am – 4:00 pm
Café- 10:00 am – 4:00 pm
Car Park- 09:00 am – 5:00 pm
House- 11:00 pm – 3:30
Plant centre- 10:00 am- 4:00 pm
Second-hand bookshop- 10:00 am – 4:00 pm
Shop- 10:00 am – 4:00 pm
Woods- Open all day
Gallery- Closed
Kiosk- Closed source
Entry Prices for Nymans Gardens
Under Gift Aid
adult is £16.50,
child is £8.30,
family is £41.30, and
1 adult, 2 children is £24.80.
Under Standard
adult is £15.00
child is £7.50
family is £37.50
1 adult, 2 children is £22.50 source
What to See and Do at Nymans Garden
Winter's Day in the Garden
Nymans is a quintessential English garden that is open to the public year-round. In winter, it has a more subdued feel, which can be appreciated more from the house. Dotted with ancient trees, shrubs, and hedges many of which have grown with the garden for centuries, it offers a palette of predominantly green and browns with splashes of white and reds.
The Messel Family Home
This beautiful house is set amid beautiful gardens and lawns and is home to Nymans Gallery. The gallery provides exhibits on various aspects of art history with particular emphasis on the relationship between art and nature.
Winter in the Woodland
The woodland at Nymans is a special place to visit in winter. It's a calm and peaceful place where you can take a leisurely stroll amid the snow-covered trees. There are also some lovely walks through the woodland that take you down to the river and back up again.
Events and Exhibits like Ignite Fire and Fantasy and Rising from ashes: the story of Nyman's fire
Nymans is having some amazing events in 2018 which should not be missed. Ignite Fire is an evening event with live music, fire dancers, food, drink, and a spectacular bonfire. Fantasy is Nyman's very own art installation complete with an epic soundscape played throughout the day. You are also invited to participate in Rising from Ashes which charts the story of the garden, through the lens of its 180-year history.
Eating and Shopping at Cafe and Secondhand Bookshop
There is a wonderful cafe called Cafe Messel serving delicious homemade cakes, sandwiches, soups, tea, and coffee that is perfect for a break while exploring the garden. There is also a secondhand bookshop that is a great place to find a bargain. source
Can I take my dog to Nymans Gardens?
Yes, you are welcome to visit Nymans with your dog. However, dogs must be kept on a short lead at all times when in the woodland nature reserve and can only access paths. source
Is Nyman's Garden wheelchair friendly?
Yes, they have two MT Push all-terrain wheelchairs available for visitors to use free of charge (normal admission fees apply). source
How to Get the Most Out of Your Visit to Nymans Garden
1. It's best to visit during the Spring or Summer months when the flowers are blooming
2. Bring your camera for some great photo opportunities
3. Wear comfortable shoes – it can get muddy depending on the weather
4. Remember to bring water with you – there are no facilities available at Nymans Garden
5. Enjoy the peace and tranquility of the garden while you're there!
Other Places Nearby
Dorset Arms– This pub serves a mixture of Eastern and Western dishes. They have an amazing selection of beers, both bottled and on tap, as well as a great wine list. This is a good place for drinks before dinner, or after! Their menu is huge, so there's something for everyone.
Red Lion- A great place for a casual meal, the Red Lion has a large menu with something for everyone. They serve traditional Indian food, as well as pub favorites like burgers and sandwiches. The atmosphere is lively and fun, perfect for a night out with friends.
Jo.co Cafe- This cafe is the perfect place to relax with a cup of coffee or tea after shopping in the area. They serve everything from cakes and muffins to full meals like pizza, pasta, grilled sandwiches, and more! Check out their amazing breakfast menu too, perfect for mornings when you're tired of parathas.
Heritage by Matt Gillan- This restaurant serves traditional Indian food with a contemporary twist. The decor is stunning, and the food is absolutely incredible. If you're looking for a romantic evening out, this is the perfect place!
Crama Romaneasca- This Romanian restaurant is a hidden gem in Delhi. They serve delicious traditional dishes like polenta, chicken paprikash, and more. The atmosphere is cozy and intimate, perfect for a romantic dinner. They also have a great wine list, perfect for pairing with your meal. source
---
Conclusion

Nymans is a beautiful garden with many different events to enjoy. There are also cafes and restaurants nearby that serve delicious food, as well as places for shopping or just taking pictures of the landscape. Nyman's is wheelchair-friendly, and dogs are allowed on the premises as long as they are kept on a short lead. Be sure to visit soon for a wonderful day out!
---
Learn more about Nymans Garden