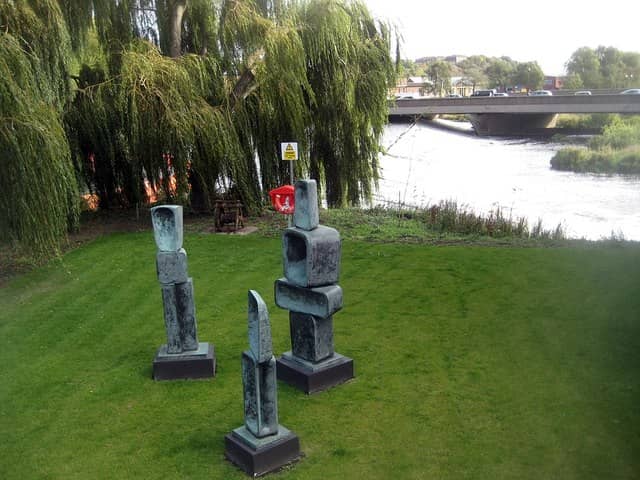 If you're looking for a place to relax, then the Hepworth Wakefield English Garden is just what you need.
The Hepworth Wakefield English Garden is a beautiful place to spend an afternoon. It's a great way to get away from the hustle and bustle of modern life, and it's open 24/7 all year round! You can even bring your dog along with you for some quality time together.
If you live nearby, this garden provides a much-needed break from the daily grind. There are plenty of benches where you can sit back and relax, or if you prefer there are also walking trails that will take you around the park. You don't have to travel far either – just hop on public transport and be here within 30 minutes! And remember, dogs are welcome too so feel free to bring yours along for some fresh air together.
---
What is The Hepworth Wakefield Garden
The Hepworth Wakefield Garden is a garden that was designed by Tom Stuart-Smith. It is open to the public and features sculptures by Sir Michael Craig-Martin and Barbara Hepworth, as well as Stuart-unusual Smith's landscaping.
The History of The Hepworth Wakefield Garden
The original Wakefield Art Gallery was established in 1934 and became one of the most forward-thinking galleries of its time, supporting artists including Hepworth and Henry Moore early in their careers. With gifts from local industrialists, the gallery built a collection of works by some of the most significant and avant-garde British artists of the 20th century. Supporting contemporary artists and developing the collection for future generations is something that The Hepworth Wakefield continues to be committed to today.
The site the gallery sits on today was once home to a much loved and time-honored local institution: Wakefield's municipal rose garden. The first rose trees were planted in Wakefield as far back as 1892 by the Rotary Club, who wanted to beautify their city, and later merged with the Horticultural Society of Yorkshire to create Wakefield Council's Park Committee. There were many rose gardens dotted around Wakefield during the 20th century, but it wasn't until 1934 that the current site was gifted to the city, by Mr. and Mrs. J W Horsfall.
The following year saw The Hepworth Wakefield Garden take shape, with the addition of 14 new rose beds, a rockery, and other features.
The rockeries were created by William Timperley, who was the curator of Wakefield's Parks between 1936-1972. The Yorkshire Post reported in 1935 that William had previously "worked on rockeries at Stonehenge", although unfortunately, this wasn't true! The modest stonemason was renowned for creating the most beautiful and imaginative rockeries – one of which still exists at Oakwell Hall – and his new creations were described as "a unique opportunity for anybody with a taste in landscape gardening to study and gain inspiration from."
Meticulous planting was carried out by the Wakefield Prison officers, who had planted over 200 rose bushes to form the main flower beds. The Prison force also maintained the garden's newly erected greenhouses, where they trained local unemployed youths in horticulture and craftsmanship – a scheme that was supported by Wakefield Council.
The rustic rockeries were designed with a view to creating a peaceful environment for visitors to relax and contemplate nature in all its glory. A small pond just inside the main entrance was filled with goldfish, adding to the serenity of visitors as they entered the garden.
Prisoners working on the rockeries were also tasked with maintaining a traditional English-style kitchen garden, which formed part of The Hepworth Wakefield's outdoor exhibition space until its renovation in 2009.
The original kitchen garden was once home to all manner of fruit and vegetables, including strawberries, raspberries, gooseberries, currants, and rhubarb. The head gardener's cottage that stood in the center of the space is now used for staff offices. source
The Grounds at The Hepworth Wakefield
The Grounds at The Hepworth Wakefield is a place where you can go to relax and take in the beauty of nature. There are plenty of green spaces to enjoy, as well as a waterfall and a pond. It's the perfect place to go for a walk or to have a picnic. There are also plenty of art installations to discover, including one of Richard Wilson's iconic 20:50 oil on water paintings.
Situated in the center of Wakefield, The Grounds is easily accessible by train or bus. Once you get there, follow the signs for The Hepworth Wakefield and you'll soon make your way onto the grounds.
How to get to The Hepworth Wakefield
By car
The Hepworth Wakefield has its own parking lot, which is located on Thornes Lane, WF1 5QJ.
By bus
The bus runs every 10 minutes and stops at Wakefield Westgate and Kirkgate railway stations, Wakefield bus station, Ridings Shopping Centre, Trinity Walk, and other city center locations.
The Hepworth Wakefield bus stop is located on A61 Barnsley Road, next to the Wakefield Waterfront and the gallery. All bus rides are free, and each FreeCityBus is handicap accessible and can transport one wheelchair at a time.
Wakefield bus station can be found at Union Street, Wakefield, WF1 3AG.
The gallery is located on major bus lines, with all providers providing services on Bridge Street, directly close to The Hepworth Wakefield.
By bicycle
Because of planned construction work, the bicycle racks near the play area have been removed. We are currently determining the optimum location for new racks; in the meanwhile, bicycles can be chained to the fence opposite the main gallery entrance. source
Opening times at The Hepworth Wakefield
The Hepworth Wakefield (10:00 am – 4:00 pm, Open Wednesday to Sunday, Closed Monday and Tuesday, Last entry 3.30 pm)
The Hepworth Wakefield Shop (10:00 am – 4:00 pm, Open Wednesday to Sunday, Closed Monday and Tuesday)
The Hepworth Wakefield Gallery (10:00 am – 4:00 pm, Open Wednesday to Sunday, Closed Monday and Tuesday)
The Hepworth Wakefield Garden (Open daily, free entry)
The Hepworth Wakefield Garden Café is currently closed
Entry Prices for The Hepworth Wakefield Gardens
Members, Wakefield District residents & under 16s is free;
Standard Adult is £12.00;
Senior is £10.00;
Student is £10.00;
Unemployed is £10.00;
Disabled is £10.00; and
National Art Pass is £6.00
What to See and Do at The Hepworth Wakefield Garden
Barbara Hepworth's work is on display in the Barbara Hepworth: Art and Life Event. This exhibit celebrates her life and showcases her favorite works of art. Visitors get to see sculptures, drawings, photographs, etchings, lithographs, screenprints, maquettes, notebooks, letters—even a stained glass window! The exhibit is organized by theme, rather than chronologically. Some of the themes include family, friends, landscape, political views, and art history. Visitors will also get to see an archival film that tells Hepworth's story in her own words.
The Family Workshops: Printing, Sculpture, and Carving are held once a month at The Hepworth Wakefield Garden. These workshops teach children of all ages how to create their own works of art using a variety of different mediums. Children can choose to print with a ball or roller, carve on soft clay, make relief prints from rubber blocks, and more! Not only is this an excellent educational activity for kids—but it's also a great way for children and parents to spend time together.
The Hepworth Wakefield Garden is located in West Yorkshire, United Kingdom, and is part of the Wakefield Museum Quarter. The garden has become one of the most popular attractions in West Yorkshire and is a must for visitors to the area.
The Garden welcomes thousands of guests each year from all over the world. It's free for everyone to enjoy, and additional programs can be enjoyed at an added cost. In addition to the workshops mentioned above, The Hepworth Wakefield also offers private gardening sessions, family days, garden tours, and more. source
How to Get the Most Out of Your Visit to The Hepworth Wakefield Garden
1. Plan your visit ahead of time
2. Arrive early for the best chance to see everything
3. Wear comfortable shoes
4. Bring a picnic lunch or purchase food on site
5. Take time to enjoy the peaceful atmosphere
6. Don't forget to take pictures!
Other Places Nearby
1) Brontë Country
The road trip to the stunning village of Haworth takes in some of the best views in Yorkshire and is steeped in literary history. The Bronte Parsonage Museum hosts international exhibitions and works closely with the Brontë family to bring their lives and works to live.
2) The Yorkshire Coast
The stunning coastline in Yorkshire is less than an hour's drive away in some parts and offers visitors the opportunity to enjoy sea air in one of the country's busiest tourist destinations.
3) Nostell Priory & Wakefield Museum
Nostell Priory is a stunning country house set in the heart of West Yorkshire and offers visitors the chance to get up close with collections from some of art and design's most iconic artists.
4) Newburgh Priory & Waterton Park
The ruins of Newburgh Abbey offer visitors a great day out where they can enjoy food and drink in an enchanting, historic location. The Waterton Park area is also steeped in history and offers visitors the chance to see some of the world's most popular animals at the award-winning Flamingo Land Theme Park & Zoo.
5) Canal Trip
For a slower pace of life try out Wakefield City Cruisers on any one of their canal trips through Wakefield's canalside suburbs. The canal network in the city is extensive and offers great views of landmarks including Walton Colliery Memorial Park.
---
Conclusion
If you're looking for a day out that involves beautiful views, interesting history, and interactive art activities then The Hepworth Wakefield Garden is the perfect place to go. With free admission for everyone, visitors have access to sculptures from some of the world's most iconic artists in addition to workshops where children can learn how to create their own works of art using different mediums like printmaking or carving on clay. Whether you visit with your family or friends (or both!), spend time exploring this museum quarter while enjoying West Yorkshire!
---
Learn more about The Hepworth Wakefield Garden